Achievements
Knee Specialists have won many awards individually and collectively, including the BASK President's Medal, as well as receiving various prizes for knee research both nationally and internationally.
In the press
Journal Profile
In December 2012 Jonathan Eldridge became only the twelfth international author to be profiled in the Journal of Bone and Joint Surgery. It was a great honour to be invited to provide a profile to the foremost journal worldwide for Orthopaedic surgeons. The link to Jonathan Eldridge's profile is provided below.

Newspaper – Best Knee Replacement Surgeon's – Daily Mail
Andrew Porteous and Jonathan Eldridge were featured in a short list of surgeons from around the country in a June 2018 Daily Mail article identifying the best knee replacement surgeons as chosen by their peers in recognition for their high standards of care.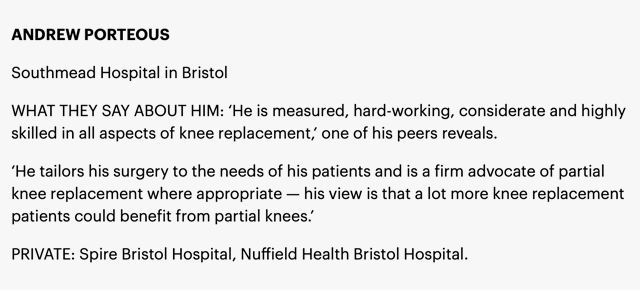 TV – Research interest on BBC points west
Nick Howells was interviewed on BBC Points West discussing the publication of the results of one the research studies he had been involved in looking at techniques for healing cartilage injuries in the knee.