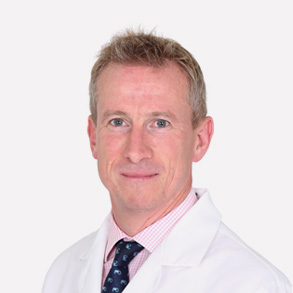 James Robinson
MB BS MRCS FRCS(Orth) MS
Mr James Robinson is an experienced and skilled specialist knee surgeon with a demonstrated international reputation. His NHS practice is based at the Avon Orthopaedic Centre in Bristol - the tertiary referral centre for complex knee problems in the South West where he runs weekly Knee Injury Clinics. He has particular interest in arthroscopic "key-hole" surgery, ligament reconstruction, partial knee replacement as well as cartilage and meniscus repair and the treatment of early arthritis. He is often referred complex cases from around the region and has been invited to demonstrate surgery in Europe, Asia and North America. He is regularly invited to lecture and teach around the world. This has given him an invaluable exposure to the latest evidence and state-of -the-art treatments.
James is a past winner of the British Association of Surgery of the Knee President's medal. He has published many research articles and book chapters on knee surgery and received awards both nationally and internationally for knee research. His other roles include: member of the Arthroscopy committee for ESSKA (European Society for Sports Traumatology, Knee Surgery and Arthroscopy), member of the ESSKA Collateral ligaments Working Group and member of the prestigious international ACL Study Group (of which there have been only 10 surgeons elected from the UK). He is a reviewer for the American Journal of Sports Medicine, and on the steering committee for the UK National Ligament registry - improving best practices by constant analysis of knee ligament reconstruction outcomes.
James undertook his orthopaedic training in London where he was also Clinical Research Fellow in Sports Trauma Surgery at the Imperial College of Science Technology and Medicine. Here he published his thesis on knee ligament injuries and was awarded a Master of Surgery degree by the University of London. Following this he spent a year's fellowship in Bordeaux at the 'Clinique du Sport' (an institution consistently rated as France's pre-eminent sports medicine clinic). He was trained in the latest techniques in arthroscopic ("Key-hole") surgery, including Anatomic 'Double-bundle' Anterior Cruciate Ligament (ACL) reconstruction. In France he became proficient in the use of computer-assisted surgery (CAS) for knee reconstruction and replacement, making him now one of very few UK based surgeons trained in computer-assisted ACL reconstruction. He spent a further six month's fellowship in the UK specialising in partial (unicompartmental) knee replacement.  Recently he undertook an 18-month sabbatical in the United Arab Emirates where he developed a meniscal transplant service and looked after many patients with complex knee problems.
James acts as a consultant to several orthopaedic industry companies and has developed surgical techniques and instruments to assist knee ligament reconstructions, cartilage treatment, meniscal repair and partial knee replacements.
James has a keen sporting interest and previously captained his university cricket side. He remains a keen golfer, tennis player and in the winter enjoys ski-mountaineering. During his fellowship in Bordeaux it was difficult not to develop an interest in wine! He lives with his family in a small village outside Bristol