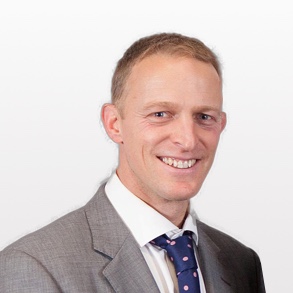 Hywel Davies
MBBS, BSc, MSc, FRCS (Trauma and Orth)
Mr Hywel Davies has been a consultant Orthopaedic Surgeon in Bristol Since 2009. He holds NHS appointments at the Bristol Royal Infirmary, where he performs trauma surgery and at the Avon Orthopaedic Centre, Southmead Hospital where he performs planned elective surgery. He runs the clinic for acute knee injuries at the BRI.
Hywel's main surgical interest is reconstructive surgery of the knee and sports injuries. He performs the full range of knee surgery with repair of damaged ligaments, cartilage and menisci. He also operates on the degenerating knee performing full joint replacements, revision surgery and unicompartmental replacements, whenever possible just replacing the effected part of the knee. He also performs joint replacement of the hip and has an interest in foot and ankle surgery.
Hywel trained in medicine at Charing Cross and Westminster Medical school, London, graduating from Imperial College. Whilst at medical school he took a year to perform a BSc degree in Sports Physiology with a thesis performed at the Institute of Human Performance, Stanmore and the British Olympic Medical Centre. He went on to do his basic surgical training around London with a knee research fellowship for a year before undertaking 6 years of Orthopaedic Specialist training on the Bristol Rotation.
During his Orthopaedic training Hywel undertook a Master's degree in Sports Medicine. Spending extra time in sports medicine clinics and learning from experts in allied professions such as Physiotherapy, Physiology and Psychology. This gives him a balanced approach to his practice. He also performed a research thesis in exercise-induced pain of the lower leg.
Following his Orthopaedic training in 2008, Hywel spent a year honing his skills in knee and sports injury surgery and assessment in 2 leading clinics abroad. He spent 6 months at Adidas Sports Injury clinic in Auckland, New Zealand. He then went to Perth Australia for 6 months. During this time he learned the latest techniques in knee ligament surgery, arthroscopy (keyhole) surgery and computer navigated joint replacement. He has also visited other leading centres across the globe to learn from their expertise.
Hywel has a keen interest in teaching and research. He lectures on a number of national courses and is an honorary lecturer of the University of Bristol. He trains Registrars in Orthopaedic surgery and teaches medical students and junior doctors. With the Bristol knee group he is actively involved in studies looking at the outcome of knee surgery and has published many journal articles, presenting his research nationally and internationally. He is a reviewer for the knee journal.
Hywel maintains a keen interest in sport. He competes in Triathlon and running recently performing the UK Half Ironman. When time permits he skis and mountain bikes. Increasingly though he is cheering his 3 kids on from the side-lines. Hywel has previously rowed at a high level for a number of clubs and Imperial College. He represented Wales at senior level. Subsequently he played club rugby until he became too soft! He lives locally with his wife and 3 children.